Back
Collect five Michelin stars in the next month
Try restaurants that collectively have five Michelin stars in the next month. This could be five one-star places, or a two and a three star, or any combination that adds up to five stars in total.
Earn 15 Points With This Challenge
---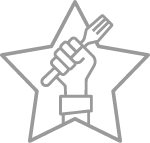 You're only 20 points away from your Fine Dining Yellow Belt!
Collect five Michelin stars in the next month Food Moments