Back
Can you cook vegan cuisine?
Vegan cuisine is a hot trend in dining right now. There are thousands of vegan recipes out there from every corner of the globe to delight our tastebuds with new foods and flavours. Inspire us with your favourite plant-based creations.
Earn 15 Points With This Challenge
---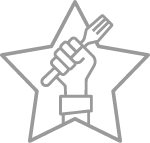 You're only 20 points away from your Fine Dining Yellow Belt!
Can you cook vegan cuisine? Food Moments