Back
Can you cook Indian cuisine?
Indian food is all about the subtle blend of mouth-watering flavours and spices. Each corner of the country has a speciality of its own. Do you prefer hot and rich, or light and sweet flavours? Share your favourite Indian dish with us.
Earn 15 Points With This Challenge
---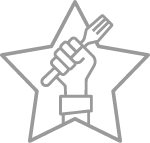 You're only 20 points away from your Fine Dining Yellow Belt!
Can you cook Indian cuisine? Food Moments