Back
Show the world how to cook Spanish food!
We are all experiencing very challenging times at the moment, most people are having to change their daily routine, the way they work and the way they socialise. Spain in particular is having a difficult time with the country in total lock-down. Not only can it be very lonely right now, it can also get pretty boring stuck inside all the time.

Some of our Spanish members have approached the World Gourmet Society with the idea of setting up a challenge so you can share the fabulous meals you are making and also show how creative you can be with the ingredients you have at home.

It would be great to form a supportive group of like-minded food-lovers in the Spanish Food Tribe. Not only can you share recipes and photos of your food you can also comment on each other's posts and give each other the support and encouragement we all need right now.

Share your wonderful Spanish dishes and inspire others now.

ESPAÑOL:
¡Muestre al mundo cómo cocinar comida española!

Todos estamos viviendo momentos muy desafiantes en este momento, la mayoría de las personas tienen que cambiar su rutina diaria, su forma de trabajar y su forma de socializar. España en particular está teniendo un momento difícil con el país en total bloqueo. No solo puede estar muy solo en este momento, sino que también puede volverse bastante aburrido atrapado todo el tiempo.

Algunos de nuestros miembros españoles se han acercado a la World Gourmet Society con la idea de establecer un desafío para que pueda compartir las fabulosas comidas que está haciendo y también mostrar cuán creativo puede ser con los ingredientes que tiene en casa.

Sería genial formar un grupo de apoyo de amantes de la comida con ideas afines en la Tribu Española de la Alimentación. No solo pueden compartir recetas y fotos de sus alimentos, también pueden comentar las publicaciones de cada uno y brindarse el apoyo y el aliento que todos necesitamos en este momento.

Comparta sus maravillosos platos españoles e inspire a otros ahora.
Earn 11 Points With This Challenge
---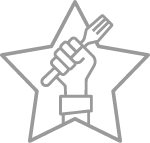 You're only 20 points away from your Fine Dining Yellow Belt!
Show the world how to cook Spanish food! Food Moments